What is this subscription box all about?
Zenpop Japanese Stationery Pack
10 items in every pack! Discover cute high quality stationery from Japan every month, and watch your collection grow!
Quality name brand writing tools, Cute stickers, Unique notepads, and sticky notes, Japanese washi tape, Cards and letter sets, Fun erasers and Innovative Japanese items!
---
What is the price?
$41.45 AUD Per Month
---
What was included
This is the whole box contents
---
Shibani Flake Stickers
Made from a hard wrinkly paper, these are cute and seem durable
---
Otoshidama Envelopes
The tradition in Japan is parents give these to children, with money inside on New Years Day
---
Winter Notepad
A cute well made notepad for jotting down thoughts
---
Winter Letter Set
Write a letter the old fashioned way with this gorgeous letter set
---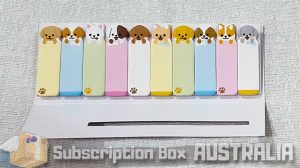 Doggy One Point Markers
Like mini post it notes, for marking a page or appointment on your calendar
---
No Staple, Stapler
What an idea! never run out of staples again
---
Beetle Tip Highlighter & Ball Pen
Cute, pink, sparkly and functional, what more can you ask for
---
Winter Washi Tape
Decorate gifts or make something spectacular with this washi tape
---
2019 Desk Calendar
Keep on top of your year with this boar themed calendar, Meant to bring you good luck in the upcoming year of the boar
---
Overall thoughts?
You have to adore the quality of things made in Japan, and this box is no exception. All the items are well made and durable. The paper is so thick, and strong not like the flimsy stuff we get here. The pens are well made and unique in style and colour. I love the staple free stapler, what an ingenious idea! This will get tonnes of use in my household. The stickers are also different to any I've seen here, made with a rigid paper instead of the glossy type were all used to. The desk calendar is cute and will come in handy for the upcoming year, and hopefully bring me some luck!
All in all this box is full of beauty and new ideas. It inspires creativity and would be a welcome addition to any Stationery collection. The price is reasonable considering it includes postage all the way from Japan. The box itself is cute an appealing to the eye! Get on board and check out ZENPOP, they also offer snack boxes, ramen boxes and beauty boxes! Whats not to love!
---
 To Get Involved Just sign up through this link
---
Check out my unboxing video below to see exactly what you get in a Box